BLOGS, NEWS & UPDATES from our Melbourne WTM Centre
2019-09-28
Sam, Doug and Neil from WTM Sydney caught up with the founders of WTM Melbourne, Sam Akriditis and Frank Balamatsias, on a recent trip to Melbourne. They were able to have a great chat about the human condition, the transformation that is now possible, and the fantastic progress of the Melbourne centre over a beer and a meal in the heart of Melbourne. Note, the orange suits were donned in support of Sam, Doug and Neil's favourite football team who were playing in the AFL Grand Finals that weekend … so the colours of FREEDOM were in abundance!
2019-09-09
The Melbourne WTM Centre is incredibly excited to welcome to our global network of support a new WTM Centre in Victoria! Our friend, and now fellow Centre founder, Angela Ryan has just opened the WTM Ballarat Centre — and so we encourage you to visit www.wtmballarat.com to learn all about Angela, who is a mother and lawyer who also holds Bachelor of Science degree in Rehabilitation and Human Services from Penn State University in her native USA. Angela is an incredibly warm and intelligent person making an invaluable contribution to this project, and we can't wait to share in her enthusiasm as we work hard to promote this world-saving understanding of the human condition across our state, and the world!
2019-08-24
The team at the WTM Melbourne Centre was thrilled to have a very strong presence at the wonderfully exciting August 2019 Global Transformation Meeting. The meeting overflowed with fellowship and inspirational discussion between Centre founders and members from every corner of the globe, and featured particularly special contributions from Melbourne's Chris, Ari, Nicoletta and Alex Akritidis on how Jeremy's explanation of the human condition has the power to explain the egocentric state, and empathetically bridge the historical divide between generations, especially between young children and adults.
Watch the highlights of the August meeting below:
Or you can watch all of the August meeting here
2019-07-09
Angela Ryan (5th from left), founder of the newly created WTM Ballarat Centre, met up with members of the Melbourne WTM Centre, for lunch at Daylesford, to support Angela's wonderful initiative to open a WTM Centre in Ballarat.
2019-03-26
We were all thrilled to meet and host Dr Anna Fitzgerald (5th from left), a WTM founding member, on one of her business trips to Melbourne. It was a great night discussing these exciting understandings and Anna said it was 'wonderful': 'They are too good to be true. The environment they have created is so supportive of living with the truth about humans. It's brilliant. I found hanging out with them so inspiring.'
2019-02-10
During a break in their February 2019 visit to Sydney, members of the Austrian and Melbourne WTM Centres went for an invigorating walk through a local national park with some of the founding members of the Sydney WTM Centre. It was a wonderful way to get to know each other better while appreciating the beauty of the late summer weather and wildflowers.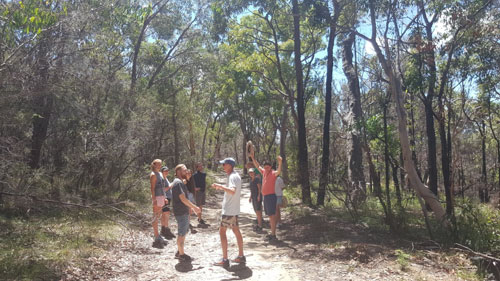 2018-10-23
Newly interested people are invited to join our MEETUP Group, to interact and discuss with others that share a deep appreciation of these breakthrough biological insights into the Human Condition.
Click here to join
2018-08-25
WTM Melbourne representatives Sam, Chris & Frank visited WTM Sydney to meet with founder of WTM USA EAST COAST Gerry St Onge, WTM SWEDEN Olof Österman, WTM AUSTRIA founder Stefan Rössler, to listen to biologist & WTM founder Jeremy Griffith's latest presentation on the Human Condition.
2018-06-02
Instagram story from Chris (a Melbourne WTM Member).
2018-05-16
A snapshot from this weeks Melbourne WTM Meeting: Our weekly meetings are a great place for new people interested in these ideas to come along and find out more and ask questions about these incredible insights into the human condition and to meet other WTM members!
2018-04-07
Instagram post from Chris (a Melbourne WTM Member)
2018-01-21
In January, we had a special visit from Sydney WTM Centre founding member Sam Belfield. We discussed a range of topics, but particularly gained a lot of knowledge from Sam's experience in understanding the Human Condition, and helping people overcome the Deaf Effect to access the wonderful Transformed State. It was a great day out along St Kilda Beach in Melbourne, Victoria.
2017-12-15 - Members Library
We've been busy building the Melbourne WTM Centre's library, so members can easily access reference material contained in Australian Biologist Jeremy Griffith's works, especially his most definitive book FREEDOM: The End of the Human Condition (www.humancondition.com/freedom-the-end-of-the-human-condition).
2017-11-11
We had a special visit from Sydney WTM founding members Tony Gowing and Tess Watson in November, where we had some delicious dinner at the Squire's Loft in Albert Park, and later showed them around Melbourne's CBD, where Tony and Tess shared their experiences on how to become transformed and overcome the Mexican Stand-Off, as well as explain how understanding the human condition reconciles Men & Women. It was a great night out.
2017-09-23
Check out the highlights from our September 2017 World Transformation Movement Global Transformation Meeting!
2017-06-10
Check out the highlights from our June 2017 World Transformation Movement Global Transformation Meeting!
2017-06-09
Over the queens birthday long weekend, Melbourne WTM Centre representatives Frank Balamatsias and Sam Akritidis visited some of the Sydney World Transformation Movement founding members.
A truly memorable visit with wonderful stories and experiences shared living and rejoicing these incredibly exciting breakthrough scientific insights. The fellowship these insights inspire really does breathe life back to Humanity.
2017-03-07
Online meetings have been launched by the Melbourne WTM Centre. At present, these meetings are only available to members who have some appreciation of the biological truth about the human condition presented on our main website www.humancondition.com. If you would like to participate, why not learn more about the subject and become a subscriber here.
2017-02-18
The WTM Melbourne Centre representatives Sam Akritidis and Frank Balamatsias meet with Australian biologist Jeremy Griffith (author of FREEDOM: The End of the Human Condition and founder of the World Transformation Movement) in February 2017.
2017-02-17 - LAUNCH OF THE MELBOURNE WTM CENTRE
What an incredible moment in Melbourne's and humanity's history. The Melbourne WTM Centre has been launched, and the relief and excitement that these breakthrough scientific insights deliver to all humans, are now even more accessible to everyone in this great city.